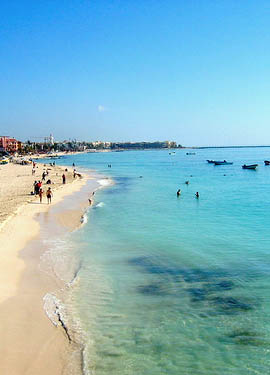 Playa del Carmen is one of the most attractive destinations in the Mexican Caribbean. Located in the heart of the Mayan Riviera, 68 km (42 mi) south of Cancun, it has an ideal subtropical climate with an average temperature of 25º C (77º F) and sunny days throughout most of the year. During the summer, the maximum temperature can reach 35º C (95º F).
At Playa del Carmen you'll find beautiful beaches looking out onto the Caribbean Sea, which are ideal places to relax or do all kinds of water sports: snorkeling, windsurfing and even kitesurfing – a new and exhilarating extreme sport that combines surfing and parasailing. For those who like scuba diving, there are boats departing from the docks which offer exciting outings to the Great Mayan Reef, the second largest coral reef (system) in the world. There you can dive at depths of more than 10 meters (33 feet) among multicolored fish and coral that has existed for more than 500 years. Near Playa del Carmen you can discover Playa Paamul and Playa Paraiso, two beautiful beaches with calm waters and gorgeous ecological parks: Xcaret and Xel-Ha. Also nearby are numerous sinkholes where you can do rappelling and cave diving while exploring the amazing depths of underground river systems. Come nightfall, we recommend that you take a stroll along Quinta Avenida, one of Playa del Carmen's most happening areas. The avenue is lined with restaurants, bars, cosmopolitan nightclubs and a shopping mall with exclusive boutiques, clothing stores and jewelry shops.
Visit Mexico Website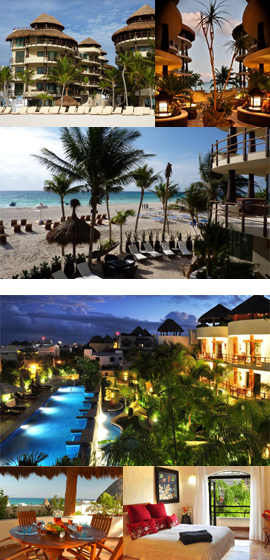 If you are planning on visiting Playa and are looking for a great place to stay, then you definitely have to take a look at this superb condos.

El Taj Ocean
El Taj Ocean is located on the beach and considered a 5 star property with 43 condo units. All units have either a partial or full view of the beach and water, and are either 1, 2, 3 bedroom units or 2-3 bedroom penthouse units – penthouses include a private rooftop with jacuzzi, gas grill and lounge furniture. Enjoy the spaciousness and luxury of a condo while receiving all of the ammenities of a 5 star hotel: 24 hour front desk and security, concierge, daily maid service and the ability to respond to all requests: have a chef come in for the day, arrange a massage in your room or at a spa.
It is ranked as the one of the top 5 properties in Playa del Carmen by Trip Advisor and VRBO. Visit El Taj Ocean Website
Porto Playa
Porto Playa is located in the Premier Zone, 100 Steps from the Beach, 1 block from world famous 5th Avenue, 1 block south of Consituyentes and Little Italy. Porto Playa has 21 condos consisting of 1, 2, and 3 bedroom condo's as well as 2 and 3 bedroom penthouses. Penthouse units include a private rooftop with jacuzzi, gas grill and lounge furniture.
Every unit in Porto Playa has beautifully designed condo's with high ceilings, large balconies or terraces with seating, full-sized appliances, microwave, blender, toaster oven dishes, cookware, glasses and more. Marble floors and bathrooms walls, glassed showers and bathrooms built for 2, with temperature controls in each room, as well as ceiling fans in each room..
Visit Porto Playa Website
Wherever you decide to go in the Mexican Caribbean you'll be left with an everlasting impression of your trip to the Mayan Riviera.