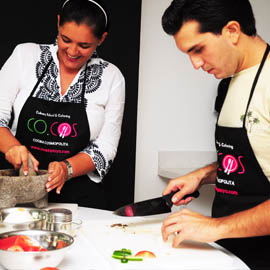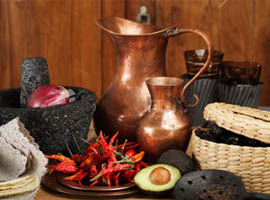 Our intensive cooking courses are meant for hobby cooks, chefs and restaurant owners interested in learning about the roots of our kitchen. Real, traditional mexican dishes are taught from all the regions in Mexico. Flavors from around the world, like Spanish, French, Caribbean, West African and even some Arab have influenced Mexican dishes. The same can be said about Mexican traditional favorites affecting other countries menus. In just about every culture you look at, you can find a hint of Mexico.
We try to make the recipes as close to how they traditionally are, but modernizing the methods a bit.
You will learn, have fun, meet new people and enjoy a beautiful place.
An example of  a day in our intensive course is as follows:
Prepare a traditional Mexican breakfast, including salsas and tortillas & eat breakfast (outside in our lovely terrace).
Prepare 2 or 3 dishes, plus a traditional Mexican drink (non-alcoholic) & eat lunch (outside).
After a 45 minute break, come back and prepare another 2 or 3 dishes & eat dinner (outside) with a glass of wine or beer.
Sometimes the dishes require a lot of work so the amount of dishes are less, and there are also two field trips programmed so that you can visit little markets and learn more about native products from the Yucatan peninsula.
The cost per course is $1700 USD, includes all material, recipes and food and a diploma for taking the full course.
Courses are taught in the first two weeks of every month from Monday thru Friday in English and Spanish.